LEVEL UP YOUR RIDER TO DRIVER COMMUNICATION!

Technology has evolved the conversation between the rider and the driver/coach. Stop speaking in WSL (wakeboard sign language) and start communicating with ease! Want to go faster? Just say it. Want a left handed double up? Just ask. Want to change the ballast to even the wake out? No more confusing hand gestures or strained relationships — Not to mention how much more effective coaching has become! It's time for an upgrade!
This package includes a bluetooth BbTALKIN Advanced Unit for the Driver or Coach and one unit for the Rider. The package comes with one or two helmets capable of fitting XS to XL size heads (or a no helmet option if you already have one), one waterproof surf bucket hat, two or four foam earpads, all of the connections and housing to accommodate both BbTALKIN Advanced Units, and a spare replacement microphone piece.

Advance Unit 2 Piece Set:
Rubber Helmet Speaker Pads with Velcro tape: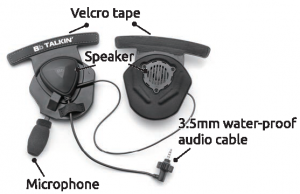 Black Cloth Surf Hat with Left Speaker and Boom Microphone with Universal Fit: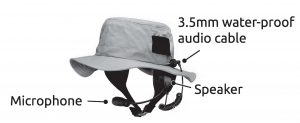 MANUFACTURER WARRANTY:
From the date of purchase, the helmet speaker pad and surf hat plus all it's components are covered for 6 months. The Advance Units are covered for 1 year from the date of purchase. Please see BbTALKIN's warranty section for complete warranty details.