Helmet headset with double sided speakers and microphone by BbTALKIN USA.

New for 2022: This headset now comes with loop side Velcro sewn into it for BbTALKIN USA's new foam ear pads. The loop side is on the ear pad and the hook side is on the foam pads. When you add these pads, they help keep the volume constant. When you set your student up out of the water, once they are in the water and riding, the outside noise interference is less. This is very helpful especially for coaching young students.
B03R is designed to be used with BbTALKIN's Advance Unit. You plug the headset's 3.5mm audio cable directly into your Advance Unit as it has the microphone and speaker piece for communication which are completely waterproof. The design of the helmet pad allows the flexibility to change out either the microphone piece or speaker piece if it becomes damaged over time.
This headset provides complete ear protection. They fasten to your helmet by a marine grade Velcro. These are compatible with almost every helmet, except those that are rubber painted.
Rubber Helmet Speaker Pads with Velcro tape: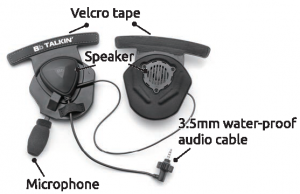 MANUFACTURER WARRANTY:
From the date of purchase, the helmet speaker pad and surf hat plus all it's components are covered for 6 months. The Advance Units are covered for 1 year from the date of purchase. Please see BbTALKIN's warranty section for complete warranty details.